Get a sign made specifically for your purpose at Frederick, Sommers & Western Sign Co., where all signs are custom-made. Our beautifully crafted creations can adorn your business, home, neighborhood, vehicle and so much more. Check out our many styles!
FLAGS, BANNERS & CLINGS
WOODEN, METAL OR PLASTIC SIGNS
CARVED OR PAINTED SIGNS
VINTAGE OR AGED SIGNS
VEHICLE GRAPHICS OR WRAPS
PERFORATED WINDOW GRAPHICS
VINYL LETTERING & GOLD LEAFING
PAINTED OR PRINTED MURALS
NEW DEVELOPMENT SIGNAGE
STRETCHED CANVAS PRINTS
DISPLAY OR SPECIAL EVENT SIGNS
About Frederick Sommers & Western Sign Co.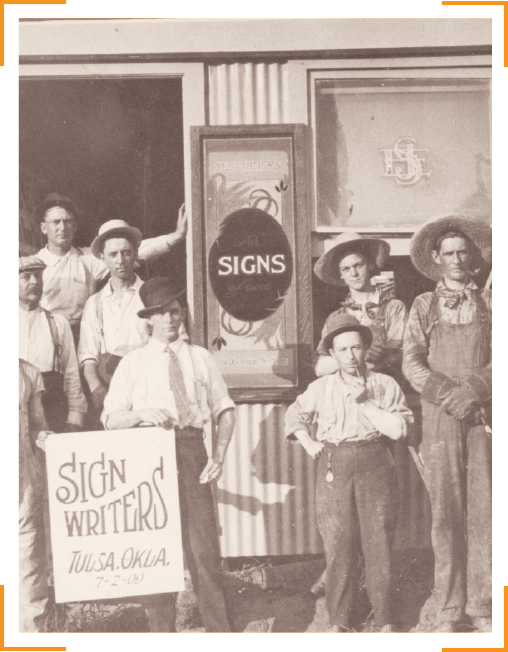 Spice up your storefront, home, car or anything else with a custom-made sign to attract attention. Frederick, Sommers & Western Sign Co. is a locally owned and operated sign shop with a rich history that stretches back to 1897, a decade before Oklahoma's inception into the Union. Today, we continue to offer our expertise in signage, graphics, and advertising for commercial and residential purposes.
Our creative specialists can develop any type of sign, wrap, banner and much more to suit any purpose you have. Advertise your business with a custom-fabricated wood, metal, foam or plastic sign or purchase a custom vehicle wrap to promote your company while driving around town. We also manufacture window graphics, vintage, aged or multi-dimensional signage, and almost anything you can think of.
Signs to promote, market and proudly display!
Real estate and sub-divisions
Schools and colleges
Sports complexes
Businesses and restaurants
Hospitals and churches
Organizations and clubs
Government agencies
And much more...